Basingstoke head teacher David Nicholson quits after escort email claims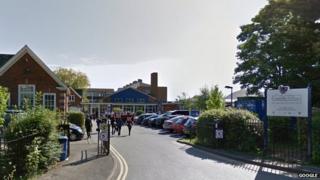 The head teacher of a Hampshire school has resigned following claims he used his school email address to contact an escort.
David Nicholson stepped down as head of Basingstoke's Costello School, saying the allegations in the national press were "highly distressing".
Governors said his resignation was "in the best interests of his family and the whole school community".
A statement added there were no concerns over safeguarding children.
Mr Nicholson, who took up his role at the school last year, said: "Although I have been very grateful for the many messages of support and understanding, I have to put both the interests of my family and the school community first.
"It is therefore with huge regret and disappointment that I have taken the very difficult decision to resign as head teacher of the Costello School."
The statement, issued through the board of governors, added it was "business as usual" at the school, which is now being led by acting head teacher Leigh Adams.