New Milton bank raider takes 'significant' amount of money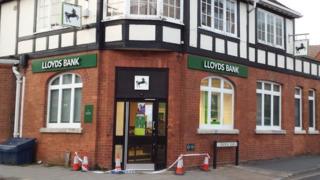 A robber got away with a "significant" amount of money in a raid on a high street bank in Hampshire.
The raider burst into the Lloyds branch in Station Road, New Milton, at about 15:30 BST while customers were inside.
He "made a threat he had a weapon" but did not produce one, Insp Scott Johnson from Hampshire Constabulary said.
No one was injured and police, who have not revealed the exact amount stolen, are taking witness statements and analysing CCTV footage.