Mayflower cruise ship terminal reopens after £6m revamp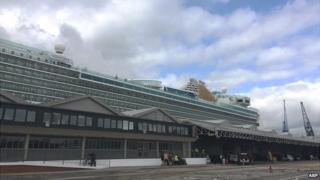 A cruise terminal in Southampton has reopened after a £6m revamp to enable it to cope with more passengers.
The Mayflower terminal, which is one of four in the city, originally opened in 1960 and will be used regularly by the QM2, Ventura and the new Britannia
The work has been carried to cater for some of the largest cruise ships which carry more than 4,000 passengers.
In 2013, 1.7 million passengers used the port, an increase in passenger numbers of 25% by 2017 is expected.
The work, which started in December includes a larger passenger lounge, 36 check in desks and extra security search lanes have been added.
Drop-off and pick-up areas at the terminal's entrance have also been redesigned.