Southampton funeral director jailed for £23,000 con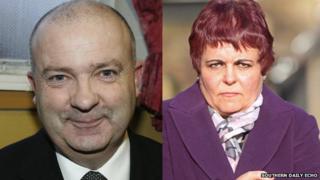 A funeral director has been jailed for defrauding nine elderly customers out of £23,000 in funeral trust payments.
Gary Trevett, of Canberra Towers, Southampton, and his former wife Fiona Langdown used the money to prop up their failing business instead.
Victims believed they had paid for a complete service that would cover their funeral. One lady told the BBC she was "devastated" to discover the scam.
Trevett, 54, wept as he was jailed for 16 months at Winchester Crown Court.
He had earlier pleaded guilty to nine counts of fraud.
'Humiliated and stupid'
Langdown, 53, of Wingate Drive, Southampton, received a three-month suspended sentence.
She had earlier been found guilty by a jury of fraud and handling stolen money, but Judge Richard Parkes spared her a prison sentence because she had tried to return money to some of the victims.
Outside court she told the BBC: "I will be contacting them [the victims] and paying them back when I can."
One of the victims, Annie Crook, paid £2,500 from her mother's inheritance into what she thought was a funeral trust to spare her family any expense when she dies.
But instead Trevett and Langdown pocketed the money for their business.
"I felt really humiliated and stupid when I realised what had happened," Ms Crook told BBC South Today.
"My mother would have told me to get more details and a receipt at the time. Not that it would have made any difference, as he did a runner and that was it."
John and Thelma Hickman paid nearly £5,000 into a similar plan. They have reclaimed almost half the amount.
"It's money we could ill afford to lose," said Mr Hickman.
"We've had to find money from somewhere else to pay for our funerals."