NSPCC Southampton starts therapy service for sexually abused children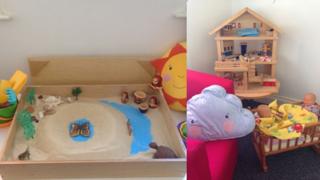 A therapy service for children who have suffered sexual abuse has been launched in Southampton.
Children's charity NSPCC set up the sessions at its existing centre in the Hampshire city after recognising a "need in the area".
The Letting The Future In service uses play rooms for "creative therapy".
Child protection plan statistics reveal Hampshire County Council recorded 65 reports of child sex abuse in the year ending March 2014.
This is the highest figure of any authority in the South East of England.
Shoe box letters
NSPCC Southampton Service Centre team manager Satty Basra said the number of cases, as well as a "low number of sex abuse services" in the area, contributed to the decision to launch the service.
The therapy rooms are designed to encourage infants and pre-teen children to express feelings that they cannot put into words.
Activities include messy play, writing, storytelling and art.
Ms Basra said: "Children find it difficult to express how they feel so this is all done through creative therapy."
An example is a child creating a clay model of their abuser and then mashing up the figure back into a ball.
Or a child can write a letter to their perpetrator, put it in self-decorated shoe box which is then buried in the ground.