Appeal to buy rare letter written by Jane Austen's sister Cassandra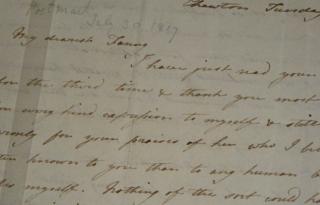 A museum in Hampshire dedicated to the life of author Jane Austen is appealing for donations to buy a rare letter written by her only sister Cassandra.
The letter is one of only three known to exist by the elder sister and was written at the Austen home in Chawton, which now houses the museum.
It was penned shortly after Jane Austen's death in 1817 and describes the author as a "dear angel".
The Jane Austen House Museum has until July to raise £10,000.
Jane's hair
The privately-owned letter costs £30,000 but the Heritage Lottery Fund has contributed £20,000.
Cassandra addresses the letter to Fanny Knight, the eldest child of her brother Edward.
She ends the letter asking whether Fanny would prefer to receive a lock of Jane's hair mounted in a ring or a brooch.
The letter is currently on loan and on display at the museum in the Hampshire village but the museum wants the letter to become a permanent part of its collection.
Curator Mary Guyatt called it a "rare and poignant letter" and said the purchase would mean "it can be appreciated by the widest public now and in years to come".
The house at Chawton was Jane's last home where she lived with her mother and Cassandra from 1809 until 1817.