Isle of Wight ice rink community vision set out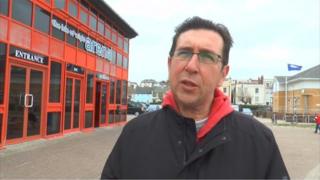 A community group that rescued the Isle of Wight's only ice rink has set out a vision for its future.
Ryde Arena Trust said plans included new bar and cafe areas, and parts of the building could be refurbished and let out as offices or a gym.
Staff at Planet Ice, in Ryde, were told in February the rink would shut because it was making a loss but the trust took over the site and kept it open.
More than 10,000 people signed an online petition to save the rink.
Campaigners formed the Ryde Arena Trust, which last month negotiated a new lease with investment company AEW.
Chairman Ian Jenkins said the centre's trustees knew it would be an "uphill struggle" but had the "passion" to turn it around.
One of the first projects will be to make the roof watertight.
But Mr Jenkins said getting the "cashflow right" was the focus.
The trust is in talks with the Isle of Wight Lottery and Ryde Town Council about funding.
Mr Jenkins said: "In the future we will obviously want to introduce a whole new bar upstairs and a whole new cafe downstairs, and really maximise the whole waste of space in a building that has been left, and left in a derelict situation for years and years and years."
He has previously been involved in a successful project to save Ryde Swimming Pool five years ago, leading it from a £250,000 loss-making venue, back into profit.
The rink is home to Wightlink Raiders Ice Hockey Team and is used by a number of figure skaters.