Fred Olsen Balmoral cruise cut short by 'gastroenteritis'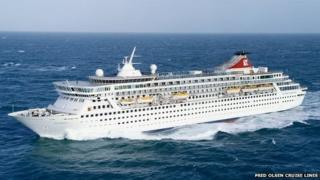 A cruise ship has returned to Southampton early after passengers suffered from a "gastroenteritis-type" illness.
The eight-day cruise on the Fred Olsen ship Balmoral was cut short after a number of passengers were affected by what the company called "an unfortunate outbreak" of the stomach bug.
The company said Balmoral was being "systematically sanitized" before departing for Madeira later.
It has offered partial "compensation".
This includes a refund of one day's cost of the cruise and a voucher for up to 50% off a future Norwegian Fjord cruise.
The firm said it would assess claims for "out of pocket" expenses on a case-by-case basis.
'Horrible experience'
Rus Donaldson and his wife Marina, from Holbury, became ill on Sunday morning, but refuted the company had offered compensation.
"What they have given us is a refund of one day, however we returned home one day early so the ship could be deep cleaned, so we would expect one day's refund for services not delivered," he said.
"An offer of up to 50% off a future cruise to Norway comes with a page of restrictions, and as if anyone would ever risk repeating the same scenario. No-one would want to take up that offer."
He added the couple were "happy to put this horrible experience behind us".
Symptoms of the illness include a sudden onset of vomiting and/or diarrhoea and some people may have a temperature, headache and stomach cramps.
The sickness usually lasts one or two days.