Gallipoli Victoria Cross Edward Unwin hero honoured in Hythe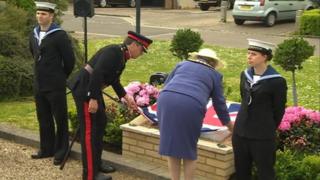 A World War One commander who won the Victoria Cross has been posthumously honoured in his home town in Hampshire.
Cdr Edward Unwin was awarded the VC for his actions at Gallipoli, before dying in 1950.
Nick Elliott, his grandson, described him as a "national figure" who was "larger than life" and had been a friend of Winston Churchill.
Senior Royal Navy officers attended the unveiling of a commemorative stone on the promenade in Hythe.
In April 1915, Cdr Unwin was in command of the 4,000 tonne SS River Clyde as it prepared to land on V Beach in Cape Hellas, Turkey.
When a bridge of smaller ships lashed together was swept away, he dived into the water under fire to pull boats together to form a makeshift bridge.
Despite collapsing from exhaustion, he later returned to the water to rescue wounded men and again to recover casualties from the beach. He survived the war and died in 1950, at the age of 86.
Speaking about his grandfather, Mr Elliot, who was five when Cdr Unwin died, said "his reputation has lived on in our family".
He added the commemorative stone would "help keep him alive".
The stone-laying ceremony, which took place in the parish of Cdr Unwin's birth, is part of a national Act of Commemoration honouring all Victoria Cross recipients.