Hugh Bonneville narrates video in Naomi House appeal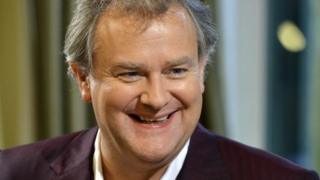 Downton Abbey actor Hugh Bonneville has narrated a video celebrating the life of a two-year-old girl who died from a rare medical condition.
The star said "no parent could fail to be touched" by Lacey Leggett's story.
She fought mitochondrial disease, a rare condition which affects the body's energy, and died last year.
Bonneville, along with Lacey's parents Lisa and Dominic, hope the video will help Naomi House Hospice in Hampshire where Lacey was treated.
It was released as part of Children's Hospice Week.
The video follows the family's story from Lacey's diagnosis to making the difficult decision to turn off life support.
Bonneville said: "Naomi House had helped a friend of mine... so I was familiar with the tremendous work they do."
Mrs Leggett, from Andover and also mother to 11-week-old Faith who does not have the condition, was "surprised" when she found out who narrated the video.
She said: "When we first watched the video I said I really recognise that voice. When I listened to the personal message Hugh had recorded for us at the end I had no doubt who it was."
She did not want to disclose what Mr Bonneville said in the private message.
Bonneville agreed to help with the video after he was approached by the hospice.
Naomi House and Jacksplace hospices support children in Hampshire, Dorset, Wiltshire, Berkshire, Surrey, West Sussex and the Isle of Wight.