Equalities role for same-sex no vote MP Caroline Dinenage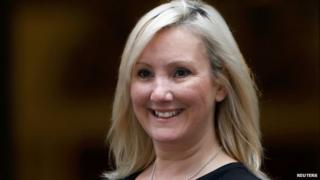 David Cameron has appointed MP Caroline Dinenage Minister for Equalities, despite her twice voting against legislation to introduce same-sex marriage.
The Gosport MP has been given a dual role as Minister for Equalities at the Department for Education and as a minister at the Ministry of Justice.
In a statement, she said she knew there would be concern over her "voting record" on same-sex marriage.
But added she supported the 2013 law.
The Marriage (Same Sex Couples) Act passed into law in July 2013.
'Fully committed'
In a statement, issued through the Department for Education, Ms Dinenage, who was first elected in 2010, said: "I know that some people may be concerned about my voting record on same-sex marriage.
"However, I want to be clear - I am fully committed to advancing the cause of LGBT [lesbian, gay, bisexual and transgender] equality and support the law on same-sex marriage.
"I'm proud the UK has just been named the most progressive country in Europe for LGBT rights for the fifth year running but as the new Minister for Equalities, I know there's no room for complacency.
"That is why I'm particularly looking forward to taking forward this Government's work on tackling homophobic bullying in schools."
Ruth Hunt, chief executive of LGBT rights charity Stonewall, said she was "disappointed" there were currently no openly LGBT people attending cabinet.
In a statement, she said there was "still a lot to do to secure full equality" for the LGBT community and added the charity would work closely with Caroline Dinenage "to ensure this is high on the agenda for this government".
Earlier, the Prime Minister held the first all-Tory cabinet meeting since the election, and for the first time in 18 years.