Wightlink announces new Portsmouth-Fishbourne ferry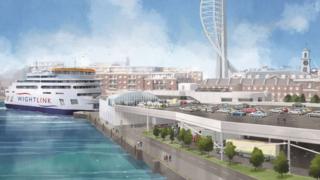 A new cross-Solent car and passenger ferry has been announced as part of a £45m investment.
Wightlink Ferries said the new flagship would come into service in 2017 on the Portsmouth Gunwharf-Fishbourne route.
It will be able to carry up to 178 vehicles and more than 1,000 people on each crossing.
It comes after Macquarie European Infrastructure Fund sold Wightlink to Balfour Beatty Infrastructure Partners LP for an undisclosed sum.
The cash injection will also see improvements to the Portsmouth Gunwharf and Fishbourne ports, including new boarding ramps to speed up loading times.
The ferry operator said its new vessel would boast a number of features to make it the "most environmentally-friendly ferry ever to serve the Isle of Wight".
As part of the investment, the capacity of Wightlink's current flagship St Clare will be increased so it can use a "double deck" loading system.
In March, the St Helen ferry was retired from service after more than 100,000 sailings, clocking up 733,824 miles (1,180,975 km) - the equivalent of travelling about 29 times around the world.
Wightlink had faced criticism over price rises and axed crossings leading to a campaign last year by three businessmen to take over the operator.
The group claimed the firm was using profits to pay off interest on high debts.
The Investing For The Future proposals have gone out to consultation.