Nepal vigil in Winchester to remember victims of earthquakes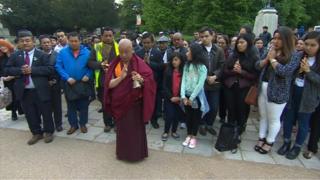 Hundreds of people gathered in Hampshire to remember the victims of the Nepal earthquakes.
A Buddhist priest tolled a single bell at Winchester Cathedral on Sunday evening in remembrance of those who died.
Candles were used to represent the number 8,466 - symbolising those who lost their lives in the disaster.
A 7.8-magnitude earthquake hit Nepal's capital Kathmandu and its surrounding areas on 25 April.
It was followed by a large number of aftershocks, including one that measured 7.3 on 12 May.
The vigil in Winchester raised almost £8,500 in aid of those affected.
The event also featured a showcase of Nepalese culture, including traditional dancing, at Winchester Guildhall.
Rezina Rai, of Unite for Nepal, said: "British people are so generous and everyone is so active, so we have had volunteers from all over the place."