Southampton's cancer immunology centre campaign launched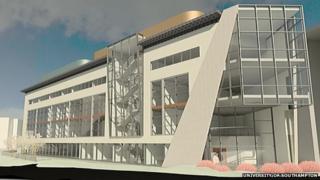 A fundraising campaign is being launched for the UK's first dedicated cancer immunology centre.
The University of Southampton is hoping to raise £25m for the new research centre, to open in 2017.
Trials on patients have shown the body's immune system can eradicate cancer for good, experts said.
More than £11m has already been raised for the centre, which will be based at Southampton General Hospital. The campaign is officially launched later.
Professor Martin Glennie, head of cancer sciences at the University of Southampton, said: "State-of-the-art facilities will attract leading scientists from all over the world, maximising research power and enabling us to accelerate the development of immunotherapy treatments and deliver cures for cancers more effectively and more quickly."
The Centre for Cancer Immunology is to be partnered with the Francis Crick Institute in London, a biomedical research centre under construction.
It will house "world-class research facilities, a clinical trials unit, a suite of molecular biology laboratories and a pre-clinical immunology lab investigating the complex interaction of cancer and the immune system".
The university claims cancer vaccines could be available within 15 years.
Dr Alan Worsley, of Cancer Research UK, said: "Harnessing the power of our immune system to fight cancer will be an essential part of future treatments.
"Dedicated immunology research centres, such as Southampton's..., mean we can develop these new weapons against the disease faster."
---
What is immunotherapy?
Some cancers are able to evade our natural defences by switching off, or confusing, our immune system's killer T cells, allowing the diseased cells to grow exponentially.
Immunotherapy is a revolutionary approach to treatment that supercharges the body's natural defences to switch our killer T cells back on, which allows them to eliminate them.
The treatments developed at Southampton not only destroy visible cancer cells but also seek out and eradicate hidden cancers in other parts of the body.
Potentially, they give us a lifetime of immunity.
Source: University of Southampton
---