Winchester flood prevention work gets under way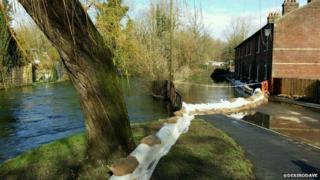 Work has begun on a permanent structure to protect parts of Winchester deluged during winter floods in February 2014.
The military was drafted in to helped build flood defences at Water Lane when the River Itchen burst its banks.
The city council is constructing a low 170m (550ft) wall and upgrading highway drainage to try to prevent water from the river overflowing.
The authority said the wall should replicate the effect of a sandbag wall erected at the height of the flooding.
The work is expected to take six weeks.
The construction of an earth bund had been considered but experts found the required increase in the ground level would have caused irreparable damage to tree roots.
Houses on Water Lane came perilously close to being flooded when water levels rose following heavy rainfall in winter 2014.
Hampshire Fire and Rescue Service brought in two high volume pumps to take 7,000 litres (1,540 gallons) of water per minute away from flooded contributories to the Itchen and into a controlled flood area.