Ringwood water sports club has boat for disabled stolen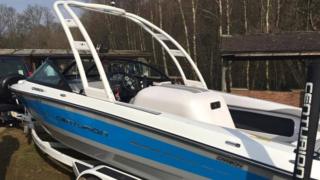 A new £65,000 boat specially adapted for the use of disabled people has been stolen from a club in Hampshire.
Thieves broke through two gates in order to get access to Ellingham Waterski and Wakeboard Club, near Ringwood, on Monday night.
Wetsuits and lifejackets were also stolen along with the distinctive Centurion Carbon Pro boat, which had only been launched earlier this month.
Chris Mullins, club manager, believes it is likely it was stolen to order.
He added: "It's gutting, we've never had a break-in before. I'm more annoyed that someone has done it for the money - it's heartbreaking."
Ian Forrester, chairman of South West British Disabled Water Ski Association, said: "I can't understand the callousness of people doing such an act.
"There's only three places in the whole of the country where people can go and be given the opportunity to get on the water despite whatever their disability may be."
The club, which caters for able-bodied and disabled people, has the use of an older boat but it is not so well equipped. Police have asked anyone with information to come forward.