Robbers drive car into Hedge End HSBC bank building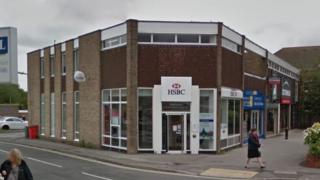 Robbers have escaped with cash after driving a car into a bank in Hampshire.
A Vauxhall Astra with three men inside was driven into HSBC bank in Lower Northam Road, Hedge End, at about 10:30 BST.
The men were seen entering the building before leaving in a white Audi which headed east.
Hampshire Constabulary said a "small amount of cash of various denominations" was believed to have been taken.
The men were described as white and wearing balaclavas and their white Audi had a 2015 number plate.
Police said one member of staff, a 31-year-old woman, sustained bruising after one of the men grabbed her wrist.
A spokesperson said: "Her injury is believed to be minor at this time and she was left understandably shaken."
The Astra was believed to have been stolen and has been seized by police.