Eight Hampshire breastfeeding clinics lose council funding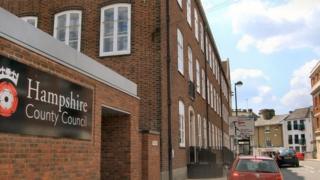 Funding for eight breastfeeding support clinics in north Hampshire has been stopped by the county council.
The local authority said it wants to "improve" the support for mothers by introducing a new "three level" service run by health visitors.
But campaigners said women who use the specialist drop-ins, held in Andover and Basingstoke, would be "furious".
A council spokesperson said women can still get help with breastfeeding at 100 clinics held in the county.
They added that 18 new breastfeeding support drop-in clinics would also be introduced.
'Difficulties breastfeeding'
Mindy Noble, from the Hampshire Breastfeeding Counselling Service, said the council had ignored the views of women.
She said: "This was a service that people were very passionate about. A lot of women have early difficulties breastfeeding and don't get the support they need."
She added that 150 people, including health visitors and GPs, wrote to the council in support of the service continuing.
In a report for the Executive Member for Health and Public Health council officers said the service "relied on short term funding" that came to an end on 31 March.
It said the new model consists of "three levels of service, delivered in accordance to need" and is the only option considered "affordable within available resources".