E-fit and CCTV released after Hedge End HSBC bank raid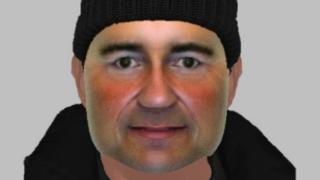 An e-fit and CCTV images have been released after robbers drove a car into a bank in Hampshire.
A Vauxhall Astra with three men inside was driven into HSBC bank in Lower Northam Road, Hedge End, on Wednesday morning.
The men, wearing balaclavas and dark clothing, left in a white Audi A3 after stealing cash from behind the till.
The Astra - believed to be stolen - was abandoned at the bank, along with a beer barrel.
The Audi, reported stolen in Liverpool in September, was found in Havendale, Hedge End, on Thursday night.
Police said one member of staff, a 31-year-old woman, sustained bruising after one of the men grabbed her wrist.
A spokesman said her injury was "believed to be minor" but she was "understandably shaken".