Hampshire's first female chief constable takes up post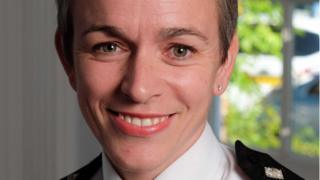 Hampshire Constabulary's first female chief constable has taken up her post and pledged her force will protect "the most vulnerable".
Chief Constable Olivia Pinkney previously worked for Sussex Police and takes over from Andy Marsh.
Her appointment was unanimously recommended by the Hampshire Police and Crime Panel.
In an open letter she said the force needed to become better at "preventing offending in the first place".
Ms Pinkney called on communities in Hampshire and the Isle of Wight to help her make the force "a standard bearer for protecting the most vulnerable".
She said this included "those at risk of child sexual exploitation and domestic abuse" and added: "None of this can be done by the police acting alone."
Police and Crime Commissioner Simon Hayes said Ms Pinkney, who received the Queen's Police Medal in the 2016 New Year's Honours List, had "a wealth of operational experience".