East Cowes ferry terminal plan recommended for approval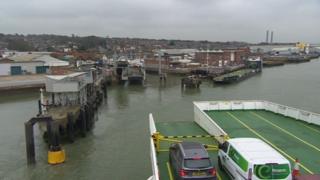 A multimillion-pound plan to enlarge a ferry terminal on the Isle of Wight has been recommended for approval.
The controversial scheme would see Red Funnel demolish an area in East Cowes to make way for the revamp.
The proposal includes the compulsory purchase of some homes but a number of owners have refused to sell up.
The plans will go before councillors on 12 April, although a decision about Compulsory Purchase Orders (CPOs) will be dealt with at a later date.
Another application by Wightlink to add a new ramp at its Fishbourne terminal has also been recommended for approval and will also be considered by members next week.
'£220,000 offer'
In East Cowes, the firm has asked for the CPOs in order to demolish properties along Dover Road.
But a number of residents have stood firm, including John Shaw who said the company's £220,000 offer for his five-bedroom house was "totally inadequate".
The council put off a decision last year about the CPOs saying it did not want to pre-empt the planning application and wanted to listen to the concerns of residents and businesses.
Red Funnel's chief executive Kevin George said the offers were "generous" and "well above the market value".
The company, which admitted the redevelopment was an "emotive subject", said it was working hard to get to the right conclusion for everyone concerned.
But Dover Road resident Mr Shaw said the two offers he received were within a few thousand pounds of each other and said the market value of his home was not the issue as he did not want to move out of East Cowes.