Southampton professors lose Israel conference court fight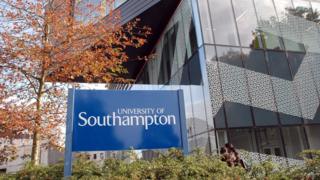 Two professors have lost a High Court battle challenging a university's cancellation of a conference on Israel.
Professors at the University of Southampton challenged decisions that "blocked" the conference being held for the second year running amid fears of disorder on campus.
Organisers argued "academic freedom" was at stake.
Sitting in London, judges rejected their challenges and declared "no large principle" was at stake.
Mrs Justice Whipple said "freedom of expression and freedom of assembly at the university were alive and well" .
Professor Oren Ben-Dor and Professor Suleiman Sharkh challenged the university after an attempt to re-launch last year's cancelled conference was "blocked" by conditions including a £25,000 fee to cover policing and security costs.
The conference described itself as "unique because it concerns the legitimacy in international law of the Jewish state of Israel".
'Controversial issues'
Ahead of last year's conference, The Zionist Federation UK garnered more than 6,700 signatures opposing its staging, while a counter-petition signed by more than 800 academics urged Southampton to resist the pressure.
Speaking to the BBC ahead of court proceedings, Professor Sharkh said: "If we want to make progress in academia, we have to have freedom and be allowed to discuss controversial issues. We cannot put limits on that."
The University of Southampton said it welcomed the ruling, and added it had "an excellent track record of supporting free speech and remains committed to its legal obligation to ensure that freedom of speech within the law is secured for all of its staff, students and visiting speakers".
In relation to the proposed re-run of the conference, the university said the judge "could see no reason why, where funds are available, the conference should not fund its own security costs".