Fareham nursing home 'failed to report serious injuries'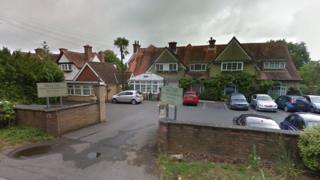 A nursing home in Hampshire has been placed in special measures after inspectors found it failed to report a number of "serious injuries".
The Care Quality Commission (CQC) made an unannounced visit to Merry Hall Nursing & Residential Care Home in Fareham in February.
It found patients were not always treated with dignity and respect.
Staffing levels and unsatisfactory management that placed people at "risk of harm" were also criticised.
Merry Hall Nursing & Residential Care Home is yet to comment.
'No response to alarms'
Inspectors found on one occasion three members of staff took their lunch break at the same time with the doors shut.
During this time, staff did not respond to call alarms for "a prolonged period of time" and left just three members of staff to meet the needs of 28 people.
The report said: "Serious injuries caused by equipment and an unexplained serious injury had not been reported to external bodies. They had not been investigated by the registered manager, meaning people may not have been safeguarded."
Relatives approached during the inspection spoke positively of the service and felt their family members were safe. But CQC said their observations and findings did not reflect the comments.
The report found medicine plans for life-threatening conditions were not always adhered to and on one occasion medicines were being given to a person without their knowledge or consent.
The CQC said the service was under review and would be inspected again within six months.