Digger gets stuck in Southsea beach mud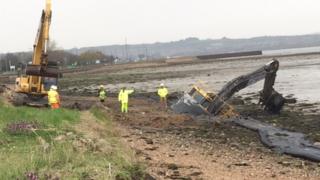 A digger being used to repair sea defences became trapped in mud on a Hampshire beach.
The digger got into difficulty in a patch of mud and soft sand while working at low tide on new coastal defences to Milton Common, Southsea.
Its owner, Earthworks Plant Ltd, said the driver of the digger had escaped from the partially submerged vehicle unhurt.
The firm said lorries had been called in to winch the digger from the mud.
Marc Bryan, from Portsmouth City Council, said there were no environmental concerns over the trapped digger at Langstone Harbour, and added: "The contractors have well-rehearsed procedures in place to prevent the possibility of pollution."
He said he hoped the vehicle would be removed on Friday but added it was tide dependant.