Southampton EU opponent advised to remove swastika banner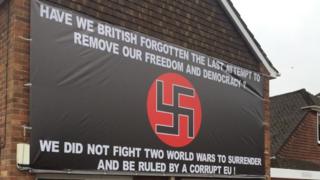 A man who put up a banner bearing the swastika symbol outside his home has been advised by police to remove it.
The anti-EU banner was put up in Hedge End, Southampton, by taxi driver Dusty Miller.
It is one of many political posters he has put up over the past three years and he has vowed not to be "censored".
Police said they had recommended the 66-year-old take the banner down in order to avoid complaints that could be investigated as criminal offences.
It reads: "Have we British forgotten the last attempt to remove our freedom and democracy? We did not fight two world wars to surrender and be ruled by a corrupt EU!"
Mr Miller said he told officers he would continue to display the banner, and said the length of time it stayed up would depend on the "debate" it generated.
'Not a racist'
"I want us to get out of the EU," Mr Miller said.
"I wanted to use the one symbol that is most horrifying, and that is the swastika."
He said he accepted some people would find it "distasteful" to compare the EU to the Nazis.
"I'm not a far-right extremist, I'm not a racist, I'm just a regular guy who doesn't like what he sees happening to our country," he added.
Hampshire Police said: "Displaying the symbol is not a criminal offence but if approached by a member of the community with a criminal allegation relating to the poster, this would be assessed on an individual basis."