Crowdfunded Isle of Wight ferry service set to launch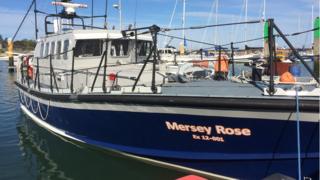 A new cross-Solent ferry service is set to begin trial sailings, after a community venture raised thousands of pounds through crowdfunding.
Starlight Ferries said it would begin sailings between Yarmouth and Lymington on 9 May using a former lifeboat.
The firm said the vessel had "limited facilities" and would appeal to passengers with a "sense of adventure".
In December a service on the same route run by Scoot Ferries collapsed after four months.
Starlight Ferries, set up by a group of Isle of Wight residents, said it had received more than £6,000 in donations after an appeal to islanders, enabling it to run a pilot service from May to October.
'Unusual alternative'
The twice-weekly round trips will be operated by charter company Needles Pleasure Cruises using the former lifeboat Mersey Rose.
Director Alice Macnab said the vessel had "great character" and would sail in all weathers, offering an "exciting unusual alternative" to services currently offered by other ferry lines.
The company plans to offer departures from Yarmouth Harbour early on Monday mornings and from Lymington Town Quay later on Friday nights in order to test demand.
Ferry services to and from the island are also currently run by Hovertravel, Red Funnel and Wightlink.