Conservatives hold on to Winchester City Council majority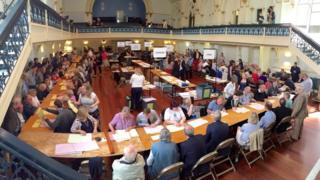 The Conservatives have held on to a majority on Winchester City Council.
The party has 25 seats, ahead of the Liberal Democrats' 20. It was the last of the election results for Hampshire to be declared.
On Friday it was announced Labour had maintained its majority in Southampton, and the Lib Dems held on to their's in Eastleigh.
The Conservatives maintained majorities in Gosport, Fareham, Rushmoor, Havant and Basingstoke & Dean.
Portsmouth City Council and Hart Borough Council both remain with no overall party in control, but with the Conservatives as the largest party.
Boundary changes meant the number of Tory councillors in Winchester reduced from 57 to 45.
They previously led the council with 33 seats to the Lib Dems 22, and with two Labour councillors also elected.
Conservative leader Stephen Godfrey said: "I am delighted for all councillors elected by their neighbours.
"The Conservatives have a lot good projects which will make Winchester a better place."
---
Hampshire election results in full:
---