Winchester Cathedral roof scaffolding removal begins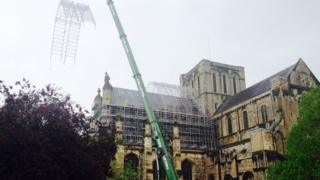 Work has begun to remove a 27-tonne frame from the roof of Winchester Cathedral following restoration work.
The scaffolding was put up in March last year so work to conserve 50 tonnes of lead roof at the eastern end of the building, which had deteriorated over time, could be carried out.
Some of it had not been replaced since the early 1800s.
A full programme of works to fix leaks and preserve the wooden vaulting is expected to be completed by 2018.
"According to plaques found on the roof, the lead ranges in age from 1819 - the year Queen Victoria was born - to 1897," a cathedral spokesman said.
"It was fracturing or cracking in places and fittings have failed, leading to the sheets slipping out of alignment."
It was expected that the new roofing would have a lifespan of approximately 100 years, he added.
The work is part of a larger £20.5m scheme which includes new exhibition spaces in the south transept and the refurbishment of the 16th Century vault beneath.