Hampshire county-wide unitary council plan 'unwieldy'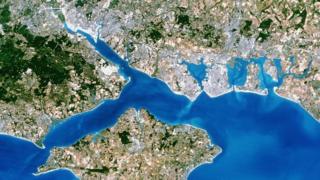 A group of council leaders hoping to create a combined authority for south Hampshire say an alternative plan for a county-wide council is "unwieldy".
Hampshire County Council announced last week it would consult on restructuring options, including a single council.
Council leaders in the area around The Solent said the single unitary option amounted to "localism in reverse".
County council leader Roy Perry said the plan to split the county in two was based on "perverse geography".
In a joint statement, the leaders of seven Solent area councils - East Hampshire, Eastleigh, Fareham, Gosport, Havant, Portsmouth and Southampton - said the Hampshire proposal "exceeds the government's own standards for scale and manageability, is a clear threat to town and parish councils and would further distance our populations from the services they and their communities rely on".
'Least efficient'
In March, plans for a combined authority for the Solent region were unofficially revealed - involving the seven councils, along with Isle of Wight and Solent Local Enterprise Partnership.
If the plan went ahead, the combined Solent councils would have an elected mayor and receive an additional £30m in funding each year to improve infrastructure.
A second Heart of Hampshire combined authority is also being discussed, which would include Basingstoke and Deane, Hart, Rushmoor, Winchester, Test Valley and the New Forest.
Councillor Perry said: "Independent analysis shows that two such unitaries based on the Solent and Heart of Hampshire proposals would be the most disruptive and least efficient model out of all of the options open to Hampshire."