Endurance swimmer abandons swim after being stung by jellyfish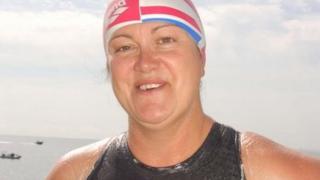 A long-distance swimmer has had to abandon a 215km (133 mile) charity challenge after suffering an "enormous number of jellyfish stings".
Anna Wardley was intending to swim between the Balearic Islands for charity, but began falling in and out of consciousness due to the stings.
The 40-year-old from Gosport had to be taken to hospital for treatment after the swim was abandoned on Thursday.
She has since been released from hospital and is recovering in Mallorca.
Ms Wardley announced the swim last year. She intended to swim between Menorca to Mallorca, then Mallorca to Ibiza and finally from Ibiza to mainland Spain.
Her previous swims include completing a solo 60-mile (96.6km) non-stop route around the Isle of Wight in 2013.
She was the first person in 30 years to make the swim which was the culmination of her Five Island Swim Challenge.
Ms Wardley has also swum the English Channel and the Straits of Gibraltar.