Southampton fireworks store blaze 'caused by cardboard boxes'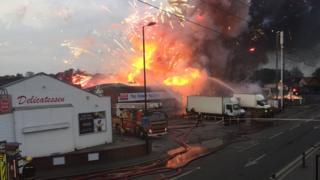 A fire which set off large explosions in a building storing fireworks started when a pile of cardboard boxes caught light, an investigation has found.
Explosives lit up the sky as the fire took hold on 13 May at Southern Firework Factory in Southampton.
Hampshire Fire and Rescue Service said plastic-wrapped cardboard boxes ignited after they were stacked close to a 300 watt lightbulb.
It previously confirmed the cause was accidental and had ruled out arson.
The store and a neighbouring florist on Bitterne Road West were destroyed. An adjoining delicatessen's office was also badly damaged in the fire.
No-one was injured but homes and properties within 100 metres (328 ft) of the fire were evacuated. Bitterne Manor Primary School was also closed.