Hampshire ports urged to look out for ship slaves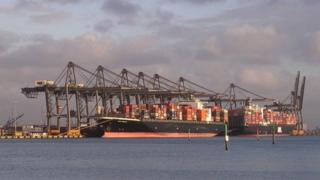 Port workers are being asked to look out for signs of slavery on ships docking in England's south coast ports.
The Hampshire and Isle of Wight Modern Slavery Partnership says slavery at sea can go unnoticed because of restricted access to ships and the limited chances to check on the welfare of seafarers.
One port chaplain says he has seen evidence of crew members forced to work without sufficient rest hours or pay.
Hampshire Constabulary said it would do all it could to help victims.
Rev Roger Stone, Apostleship of the Sea port chaplain for England's south coast ports, said he had seen galleys without food or drinking water, food unfit for human consumption, filthy shower and toilet areas and galleys with insect infestation.
Insp Dave Humphries of Hampshire Constabulary said: "The priority for the police in the first instance is to safeguard victims. However, we will seek to disrupt criminal activity associated with modern slavery and prosecute those responsible wherever possible.
"We know from what people such as Roger tell us, that there are crew members on some commercial ships that come into our ports being exploited and this may amount to offences under the Modern Slavery Act.
"Where this is the case, we want to be able to do all we can to help those victims and then deal with offences. This may even involve us seizing vessels whilst investigations take place."
Jonathan Roberts, of the UK Chamber of Shipping, said: "The shipping industry is highly regulated and conforms to high standards of sea-farer working rights, agreed through international conventions.
"We are aware however of a very small section of this global industry that does not conform to such high standards and the UK Chamber of Shipping supports efforts to abolish modern slavery in all its forms."