Portsmouth Tricorn Centre £500m development 'set to be axed'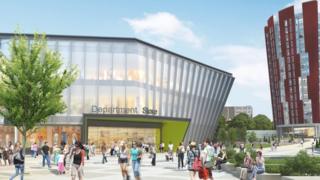 A plan for a £500m re-development of Portsmouth's northern quarter is set to be axed, according to the city council.
The former Tricorn Centre area of Portsmouth was due to be regenerated with shops, a leisure hub and housing.
However, Portsmouth City Council said there was no longer a "suitable structure" in place to deliver the development.
The authority said the entire city centre would be "re-examined for future growth opportunities".