Concerns over New Forest house building plan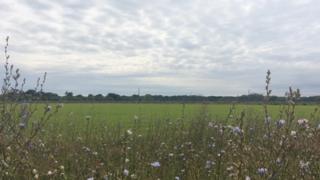 Plans to build up to 10,000 new homes around the edge of the New Forest could put "enormous pressure" on the area, campaigners have warned.
Twenty sites, in towns including Ringwood, Totton and Lymington, have been earmarked for housing by the New Forest District Council.
The council said it faced "difficult decisions" over building on some green belt locations.
It said 20% of houses on larger sites would be discounted "starter homes".
Conservative-run New Forest District Council said changes to national planning policy meant it had to increase its targets for house-building from 200 to 600-700 homes per year in its new local plan.
Sites at Marchwood, Totton, Lymington, Ringwood, New Milton, Milford on Sea and Hordle - outside the jurisdiction of the New Forest National Park Authority - have been identified as potential building sites over the next 20 years.
Graham Baker of The New Forest Association said: "Our problem in the forest is that its an extremely desirable place to live. The average house price is £531,000 which means our children can't actually afford to live in the forest.
"[The local plan] eases pressure on places for our children to live reasonably nearby, but it creates enormous pressure on the forest itself."
Totton Liberal Democrat opposition councillor David Harrison said building in areas outside the national park boundary would create a "doughnut effect".
"We have some important green gaps between settlements - it helps separate the communities and people really value them.
"It will change this area fundamentally - from a rural to much more urbanised."
Edward Heron, deputy leader of New Forest District Council, said the plan "balances the needs for housing with the sensitivities of the area".
"We need to address the urgent need for affordable homes for younger people and families, and meet at least some of the housing need where it arises
"In the south of the district, this will mean building on some green belt land."
Once approved by the council, a public consultation on the plans is due to last until mid-September.