Hampshire waste and recycling centres to close one day a week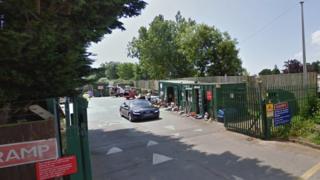 Waste and recycling sites across Hampshire are to have their hours reduced and new charges brought in.
But none will close, under new plans announced by Hampshire County Council to save up to £1.55m.
The authority had considered shutting up to 12 sites, but 92% of people opposed closures in a consultation.
A final decision will be made later this month, on proposals to close all centres for one day a week and to introduce charges for "DIY waste".
Councillor Rob Humby, in charge of environmental issues, said: "I am pleased to see that it looks like a way has been developed to... keep all of Hampshire's 24 Household Waste Recycling Centres (HWRCs) open, while achieving the savings the County Council needs to make for this year."
Fly-tipping fear
As well as closing every Thursday from October, the centres would open later at 11:00 BST.
There would be new charges, yet to be fixed, for materials classed as "DIY construction waste", including soil, plasterboard and wooden fence panels.
For the first time, centres would accept waste from small businesses for a fee, and there would also be a charge of £2 per visit for people from other counties.
The authority said a new waste centre contract, including reduced management fees, would raise at least £443,000.
Councillor Humby said: "I realise that there is a concern that any changes to HWRC opening hours could increase fly-tipping... and I would like to reassure residents that we are working on new and robust tactics to tackle this.
One online petition against the possible closure of the tip on Hayling Island, backed by local Conservative MP Alan Mak, collected 6,800 signatures.
A final council decision is due on 22 July.