Farnborough Victorian cemetery chapel gutted by fire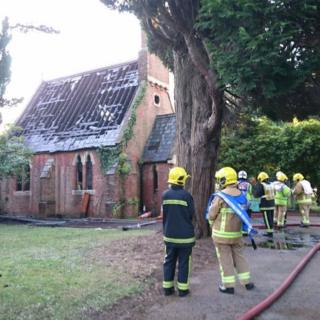 Two boys have been arrested on suspicion of setting fire to a Victorian cemetery chapel in Hampshire.
The disused Victoria Road Cemetery chapel in Farnborough was gutted by the blaze on Monday evening.
About 70% of the chapel, which was built in 1859, has been damaged by the blaze which ripped through its roof, the fire service said.
Police said the boys, aged 11 and 12, had been arrested on suspicion of arson and released on bail.
The chapel has not been used for more than 20 years.
Victoria Road was closed between Marrowbrook Lane and Elm Grove Road during the blaze and while investigation work was carried out.