BBC documentary probes Damien Nettles disappearance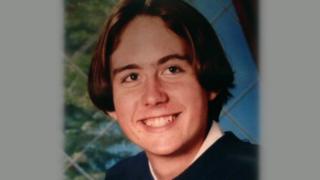 A TV documentary has investigated whether the disappearance of an Isle of Wight teenager 20 years was linked to the "dark underbelly" of the island's drug scene.
Damien Nettles vanished, aged 16, after a night out with friends in November 1996. His body has never been found.
The BBC Three Unsolved programme spoke to his friends and people linked to the case.
Hampshire Police said the case "remained open".
The last confirmed sighting of Damien was on CCTV in a chip shop off Cowes High Street, late on Saturday 1 November 1996.
No-one has ever been charged over his disappearance.
Journalist Alys Harte said they faced "twenty years of rumour, speculation and lies" when they tried to review evidence.
Interviews with friends and previous suspects led them to believe Damien's death was linked to drug use and dealing.
"It does raise the question [of whether] it made him encounter a world which was too dark or dangerous for a teenage boy to inhabit," she said.
Damien's mother Valerie, who now lives in the US, took part in the programme.
She previously said her son was not into drugs but "wouldn't have been surprised" if he had been smoking cannabis.
"We never felt Damien went off on his own for any reason. We have always felt something bad happened. Not knowing for sure has been the worst possible part," she said.
A police spokesman said no new lines of inquiry had been identified over the past year.
"[The] files for this case remain open to receive any new facts anyone may have about what happened to Damien," he added.
Eight people were arrested in 2011 but later released with no further action.
Watch 'Unsolved: The Boy who Disappeared' on BBC Three.