Cowes carnival goes on after fire destroyed floats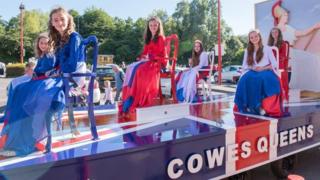 An annual community carnival has marked its 120th anniversary, six months after its floats were destroyed in a large fire.
Cowes Carnival organisers said they had "lost everything" when their premises at Medina Village industrial estate were destroyed in the blaze in January.
Chairwoman Lynn Hammond said the community had "rallied round" with donations.
Crowds lined the streets for the procession on Thursday evening.
The industrial unit used by the carnival to house its floats and equipment was gutted when welding sparks started a fire in an adjoining car repair unit, on 26 January.
The charity lost tools, boat batteries, chairs, lighting, its trailer, timber, floats and costumes.
Ms Hammond said it had needed "blood, sweat and tears", to have the organisation running in time for the summer carnival season on the island.
"There were so many times when I didn't think we'd do it, but the community has been unbelievable. People are just mad about the carnival," she said.
"Every day had another hurdle, but now we've done it."
The organisation was donated another storage facility, a new trailer as well as tools, wood and floats, while other organisations held fundraising events.
The event also celebrated Cowes Carnival's 120th anniversary with many previous carnival queens taking part.
Vintage boats, including a World War Two Dunkirk "little ship" were also destroyed in the industrial estate fire, which was started accidentally.
Forty business units were evacuated along with residents in nearby streets.
No one was seriously injured but two people referred themselves to St Mary's Hospital in Newport after suffering the effects of breathing in smoke.