Twizy 'eco-friendly' car hire on Isle of Wight and New Forest ceases bookings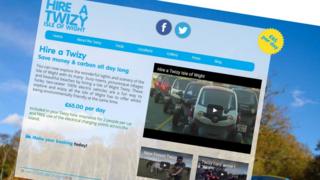 An "eco-friendly" electric car hire scheme has stopped taking bookings, less than a year after its re-launch.
Hire a Twizy offered two-seater battery powered Renault Twizy vehicles to tourists in the New Forest and on the Isle of Wight.
The scheme was backed by local councils and tourism bosses and received a £36,000 government grant.
Its owners have not responded to a request for comment and booking pages have been removed from its websites.
Customer, Madeline Paterson from Cowes was left "very disappointed" after her weekend booking of six vehicles was cancelled by the company. She received a refund.
"I always thought the Isle of Wight was the perfect place for an electric car business. I'd seen them and really wanted to give it a go." she said.
The Lymington-based hire scheme was re-launched by The Electrik Vehicle Company Limited in the New Forest in November, two years after a previous scheme failed.
It was extended to the Isle of Wight in March, receiving a £36,000 grant from the island's Local Sustainable Transport Fund allocation from the Department of Transport.
An Isle of Wight Council spokeswoman said: "The council is aware of recent media reports regarding Hire a Twizy Isle of Wight, and is seeking to establish the status of Twizy operation and will consider all available options in due course."
Users were charged £65 a day to hire one of the 15 vehicles which could be charged at tourist venues around the island.
David Thornton of the Visit Isle of Wight consortium, which had helped promote the scheme, said he was "disappointed and frustrated" it had closed at the height of the island's summer season.
"We thought they were great - it's an appropriate transport for the country lanes of the Isle of Wight. They are idiosyncratic and quirky and were proving very popular".
Red Funnel Ferries, which also offered Twizy hire on its website, said it had removed the link when it was clear the service was not available.