Gypsy Moth IV returns for round-the-world anniversary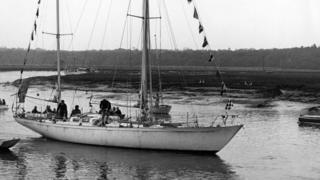 The boat used by Sir Francis Chichester for a solo voyage around the world has made a 50th-anniversary return to the place where the adventure began.
Sir Francis began his test voyage from Buckler's Hard in Hampshire on 12 August 1966, before launching his attempt from Plymouth two weeks later.
He became the first person to single-handedly circumnavigate the globe by the clipper route.
His 54ft (16m) ketch Gipsy Moth IV will be on the Beaulieu River for two days.
Sir Francis' son, Giles, is returning to the Beaulieu Estate for the anniversary and will present the yacht's burgee to Lord Montagu.
The Royal Yacht Squadron flag had been displayed in Chichester Cathedral for nearly 50 years but will now be added to the Buckler's Hard Maritime Museum collection.
Also attending the event will be Chris and Dave Martin, the sons of shopkeeper Rhoda Martin who helped provide supplies for the nine-month adventure.
Mr Chichester, who was five at the time of his father's famous voyage, recalled preparations for the trip had been stressed due to "last-minute alterations to the ballast in the keel" and "anxieties over finding extra finance" after boat-building costs ran over budget.
He said: "The one thing I do remember, I am almost embarrassed to say, was watching the World Cup final in Mrs Martin's upstairs room."
Sir Francis, who was 64 at the start of his trip, had held a mooring on the Beaulieu River since the 1950s.
Lord Montagu, who owns the Beaulieu Estate, said: "Before he set sail, local people played a vital role in preparations such as the rigging and food supplies, as well as providing support and waving him off on his long journey."
The route sailed by Sir Francis followed that of the clipper ships which ran from west to east through the Southern Ocean.
Gipsy Moth IV
Gipsy Moth IV was commissioned specifically for the solo round-the-world voyage
It was built in Gosport by Camper and Nicholsons and launched in March 1966
The round-the-world voyage began in Plymouth on 27 August 1966
Sir Francis arrived in Sydney, Australia, after 107 days
He completed his voyage on 28 May 1967, after 28,500 miles (45,900km) and 226 days at sea
After Sir Francis' death in 1972, the yacht was put on display next to the Cutty Sark in Greenwich
In 2004 the rotting yacht was bought and restored by the UK Sailing Academy
It sailed around the world a second time from 2005 to 2007, crewed by disadvantaged children