Woman dies in tent at Boomtown Fair festival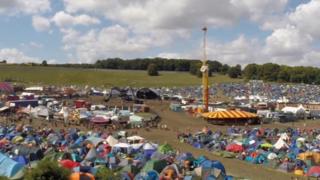 A woman has died at the Boomtown Fair music festival in Hampshire.
The 18-year-old from Buckinghamshire was found unconscious in a tent at the event at Matterley Estate, near Winchester, at about midday.
Paramedics and the on-site doctor were called but the woman was pronounced dead at the scene.
Hampshire Constabulary said the death was not being treated as suspicious but investigations were ongoing and the coroner had been informed.
The woman is the fourth person to have died during the seven-year history of Boomtown.
In 2011, Deborah Jeffery, 45, from Winchester, suffered a fatal heart attack after taking ecstasy; in 2013, Oxfam steward Ellie Rowe, from Glastonbury, Somerset, died after taking ketamine.
Lisa Williamson, 31, from Hereford, was found hanged after using drugs at the following year's event.
On Friday, more than 80 cars were destroyed in a fire at the festival site car park. Investigators believe the blaze was started by a discarded cigarette.