Sergeant 'slashed soldier with machete' at Aldershot barracks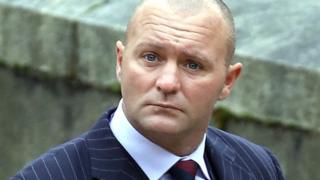 An Army colour sergeant attacked a fellow soldier with a machete, severely injuring him with "slashing blows", a court has heard.
John Norwood of 1st Battalion Scots Guards is accused of wounding with intent L/Sgt James Warnock at barracks in Aldershot, Hampshire, in July 2015.
Portsmouth Crown Court heard the incident had begun with a row in a pub.
Sgt Norwood, 38, from Glasgow, is also accused of attempted wounding involving another man. He denies both charges.
Jurors heard the attack at Mons barracks followed a confrontation in Aldershot's George pub, which began when Sgt Norwood slapped L/Sgt Warnock - who was two ranks below him - around the face.
The court was told, after further confrontation, L/Sgt Warnock, 24, punched the defendant twice, knocking him to the ground.
'Real tizzy'
Prosecutors said that back at the barracks, at 03:00 BST, Sgt Norwood went into the wrong room, belonging to Craftsman Nicholas Wood, 24, and swung the machete at him as he lay in bed, slicing a duvet.
Sgt Norwood found L/Sgt Warnock's room at about 05:00 and attacked him, severely injuring his shoulder and hurting his hand, the jury was told.
David Richards, prosecuting, said: "Angered for whatever reasons, maybe his pride was slighted in the pub, he worked himself into a real tizzy.
"When he was punched and knocked to the ground by the younger man, that was too much for him, so he went looking for him, determined to have it out with him."
The court was told Sgt Norwood also injured his own arm and told paramedics they had been "playing around with knives".
Prosecutors said Sgt Norwood, of Priesthill Road, Pollok, told police he had not intended to hurt L/Sgt Warnock and said he had been "bottled" by him in the pub, not punched.
The case continues.