Arson arrest after Shanklin flats fire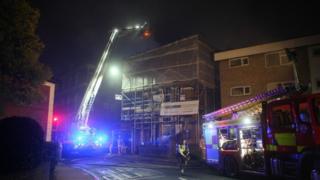 An 18-year-old man has been arrested in connection with a fire in flats on the Isle of Wight.
Dozens of firefighters were called after the fire broke out in the building in Shanklin High Street shortly before 03:30 GMT.
A 39-year-old man was rescued from a window by fire crews. He was taken to hospital after suffering the effects of inhaling smoke.
Numerous residents in homes nearby also had to be led to safety.
Police said the man from Newport, arrested on suspicion of arson, remains in custody.
It is understood residents who were led to safety are being cared for in a nearby hotel.
The High Street and Landguard Road and St Johns Rd were closed overnight but have since reopened.