Hedgehogs 'deliberately set on fire' at Mudeford Junior School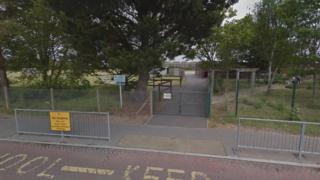 Two hedgehogs suffered a "painful and cruel death" after being set on fire deliberately on a school playing field, police have said.
The animals were discovered in a box following the "small" blaze at Mudeford Junior School, Christchurch.
Dorset Police said it was likely the spiny creatures would have been alive when they were set alight.
Officers are appealing for witnesses to the fire which happened on 8 July when the school was closed.
PC Geoff Avey-Hebditch said: "The hedgehogs will have endured a painful and cruel death as we believe they would have been alive at the time.
"This was obviously a horrific act of animal cruelty and I am now appealing to anyone who may know who the culprits are or saw anyone acting suspiciously in the area at the time to contact Dorset Police."