Ryanair 'refused to fly' woman with mental health condition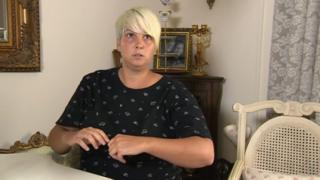 A woman with a mental health condition has criticised Ryanair for preventing her boarding a plane, leaving her at a Spanish airport.
Ann-Marie Finch, 31, has a multiple personality disorder which means she can act like a child when stressed.
She said she was ordered back to the terminal at Murcia Airport on the orders of the pilot while waiting to board a plane to Bournemouth.
Ryanair said she was disruptive and was denied boarding "for safety reasons''.
She was put on a flight the following day.
Ms Finch, from Basingstoke, was returning from a family holiday on 22 August with her assistance dog.
Her disorder brought on by a car accident six years ago.
Both the airport and the airline had been told of her disability and she had been called to board the plane ahead of other passengers.
She became distressed after being bitten by mosquitoes while waiting on the tarmac.
She was refused access to the plane and ordered back to the terminal.
'Out of order'
Ms Finch said: "When I'm anxious I can't function and it can affect my mobility and the way I talk. I was scared like a child and can't function and can't cope.
"I don't want to have to rely on people all my life. Because of that I can't fly alone now."
Her mother Sandy said: "She just wanted to be safe. She's not a threat or a danger to anyone.
"It's appalling what they've done to her confidence."
In a statement the airline said a passenger had become "disruptive prior to boarding" and was "denied boarding for safety reasons".
"Overnight hotel accommodation was provided and the passenger was re-accommodated on to the next available flight, the following day.
"While we regret any inconvenience caused, the safety of our customers, crew and aircraft is our number one priority."