Hampshire YMCA centre guilty after girl 'nearly hanged'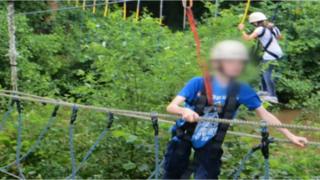 A YMCA activity centre has been found guilty of failing to ensure the safety of a girl who was left hanging by her neck from a rope bridge during a school trip.
The then 11-year-old slipped on the bridge at the YMCA Fairthorne Manor activity centre near Botley in 2012.
Portsmouth Crown Court heard she was left hanging for several minutes by a safety lanyard looped around her neck.
The unconscious girl was cut free by instructors and later recovered.
More on this and other stories from across the South of England
The girl, who cannot be identified for legal reasons, was taken to hospital by air ambulance and made a full recovery.
Group of 40
The YMCA Fairthorne Group had denied two charges brought by Winchester City Council over the incident on the so-called Burma Bridge rope bridge activity.
She was among a group of 40 pupils from a school in Chandler's Ford who were on a trip to celebrate the end of the school year in July 2012.
During the trial, prosecutors said the rescue was "pretty shambolic" and it was "a matter of luck more than judgement she wasn't seriously hurt".
In the end a cable was severed and the girl dropped into the water under the bridge, along with one of two instructors trying to support her.
The company was found guilty of "failing to discharge a duty in the conduct of an undertaking, to ensure the safety of persons not in their employment".
The jury was unable to reach a verdict on a second charge against the YMCA Fairthorne Group of failing to ensure that employees were adequately trained.
The group said it was "disappointed" with the verdict and described the incident as an "unfortunate isolated event".
"The YMCA Fairthorne Group has a first-class safety record and takes the issue extremely seriously," it added.
Sentencing is due to take place on 3 November.