Hampshire PE teacher 'took baths with teenage girls'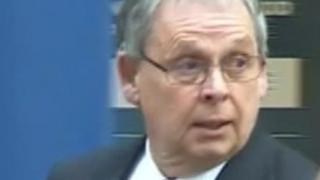 A PE teacher gave massages and took baths with "highly-impressionable" teenage girls before indecently assaulting them, a court has heard.
Richard Hilary is accused of 14 charges of sexual assault against five girls while working as a teacher and coach in Hampshire in the 1970s and 80s.
His trial at Winchester Crown Court heard he would take naked pictures of his victims and ask them to perform sex acts on him.
He denies the offences.
'Smoochy dances'
Mr Hilary worked as a teacher at the Wavell School in Farnborough and as a coach at Winchester Athletics Club.
He would take the girls to secluded beauty spots where he asked them to perform sex acts on him, the jury was told.
He is also accused of having "smoochy dances" with some of the complainants before asking for "Christmas kisses".
Rob Welling, prosecuting, said the defendant told one of the girls, after sexual contact with her: "You're better at it than with my wife."
While teaching badminton, Mr Hilary, of Northend Lane, Droxford, set a rule that a lost point meant that the girl had to show him a part of her body, and when he lost "he showed her his jock-strap", Mr Welling said.
He added, Mr Hilary "cultivated inappropriate relationships with a number of young girls that he came into contact with".
"He abused his position... in order to indecently assault highly-impressionable under-age girls who had every reason to expect he would behave professionally around them."
Police launched their investigation into the allegations after Mr Hilary was acquitted of offences against another girl, the court heard.
Mr Welling said other women came forward with allegations as a result.
The trial continues.