Solent captive oysters to be released into wild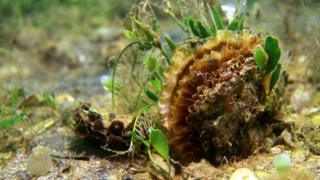 Stocks of oysters reintroduced to the Solent in a bid to revive fishing in the area have doubled, with the first due to be released from captive sites on to the seabed.
About 10,000 oysters were transferred to cages at six sites in April, with another 10,000 moved there this month.
Project organiser Blue Marine Foundation said it planned to put 3,500 of them on the seabed next week.
The first adults to be transferred have already started to reproduce.
Morven Robertson, from Blue Marine Foundation, said the oysters had spawned - where the female oyster releases eggs, the male oyster releases sperm, and they fuse in the water.
She said each oyster can release up to 1,000,000 larvae during a "spawning event".
The seabed site where the 3,500 oysters will be transferred to will "remain anonymous" in a bid to protect them, she added.
The group will continue to monitor the stocks and larvae.
Oyster fishing in the Solent was banned after the Inshore Fisheries and Conservation Authority (IFCA) found the molluscs were failing to reproduce as a result of water quality, invasive species and over fishing.
A pilot project, involving adult oysters, was previously held at the site of Olympic champion Sir Ben Ainslie's racing team and at the University of Portsmouth's raft in Langstone Harbour.
Following its success juveniles were then transferred to cages at those two sites, as well as at four other marinas - with the first 10,000 seeing a 90% survival rate.
A final report on the project is expected in 2021.