Woman who strangled ex-Gurkha cleared of murder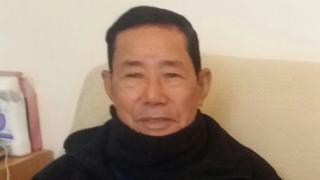 A woman who strangled a former Gurkha before going to his home and attacking his wife with a knife and a rolling pin has been found not guilty of murder.
Sun Maya Tamang, 50, was convicted of the manslaughter of Man Limbu, 75, who was found dead in her flat in Victoria Road, Aldershot, on 10 March.
Tamang was also convicted of causing actual bodily harm to Gayatri Limbu, 48, at her home in Grove Road.
Mrs Limbu said she thought she was going to die in the five-hour struggle.
During the trial, the court heard Mr Limbu's body was found by Tamang's son and daughter, along with a note that read: "This person came to the door, knocked on the door and this person attacked me. And then I retaliated. My children are not to be blamed."
Jurors were told the relationship between the pair was unclear, although Mr Limbu had phoned her in the days before his death.
After strangling Mr Limbu, Tamang took a large traditional Nepalese kukri knife and a rolling pin to Mr Limbu's home, using his keys to let herself in, and waited for his wife to arrive.
Mrs Limbu told the court the pair struggled for five hours.
Prosecutors said the ordeal ended when police arrived to deliver the news of Mr Limbu's death.
Tamang was found not guilty of false imprisonment at the conclusion of the trial on Monday and is due to be sentenced at Winchester Crown Court on 21 December.
Det Insp Simon Baker of Hampshire Constabulary thanked Mrs Limbu for her bravery and offered his condolences.
A family statement said Mr Limbu had "zealously served the Queen and country after joining the Gurkha regiment and he was proud of that".
He was described as a "good husband and helpful person" whose death had "left them with more questions than answers".