Brockenhurst villagers, hotels and college without gas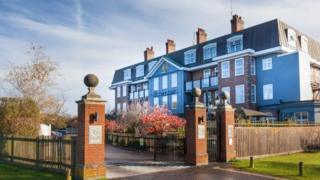 Two spa hotels, a college and village residents have been left without gas following a water leak in Hampshire.
Gas supplies to 64 homes, as well as to Balmer Lawn Hotel, Careys Manor Hotel and Brockenhurst College, have been lost, SGN said.
Careys Manor said it had been forced to turn guests away and cancel bookings. The college is currently closed.
SGN said it had removed more than 1,980 gallons (9,000 litres) of water from its network after "third party damage".
Balmer Lawn Hotel manager Michael Clitheroe described it as a "major inconvenience" to his guests after the hotel had been left with no heating and hot water.
However, he said it was "business as usual", adding the hotel would "maybe look at compensation [for guests] later on down the line".
'Guests refunded'
Sunil Kanjanghat, general manager of Careys Manor, said the hotel, its three restaurants and spa, first became affected on Monday morning.
"We had to tell our guests we were not able to supply heating, basic water supply was cut off and then the spa had to be shut down as well," he said.
"We had to call every guest to cancel their booking, which was not nice."
He added guests already staying at the hotel were refunded and left on Monday evening, which had cost the company "thousands and thousands of pounds".
Brokenhurst College said: "Owing to a gas supply issue beyond our control - leaving us without heating, hot water or cooking facilities - the college is now closed for the remainder of the day."
However, Highwood Nursery is unaffected and will remain open, it added.
SGN said its engineers were "continuing to work hard to restore supplies as soon as possible".
Two-way temporary traffic lights are in place in Lyndhurst Road outside Careys Manor Hotel.
Southern Water said it had worked with SGN on Monday after one of its water mains burst.
It said repairs to its network had since been completed.